Direct Action Vertical, Inc. (DAV) is a professional training company specializing in vertical, tactical, and rescue operations in extreme environments.
Our largest offerings are in full spectrum tactical rope operations, wilderness / mountain  / tactical tracking operations, light weight mountain / subterranean (cave) operations, and incident management / operational planning of such missions. DAV also manages international science and rescue-pre-planning expeditions, and provides training support to both civilian and law enforcement training events.  It is divided into a Law Enforcement / Armed Forces agency-only division as well as a civilian / general public division.
Mission Statement
To provide ever-evolving professional training for low frequency/high consequence tactical and rescue operations, using reality-based training principles, taught and tested by multi-faceted skill-set instructors, to ensure mission success, operator safety and a winning mindset.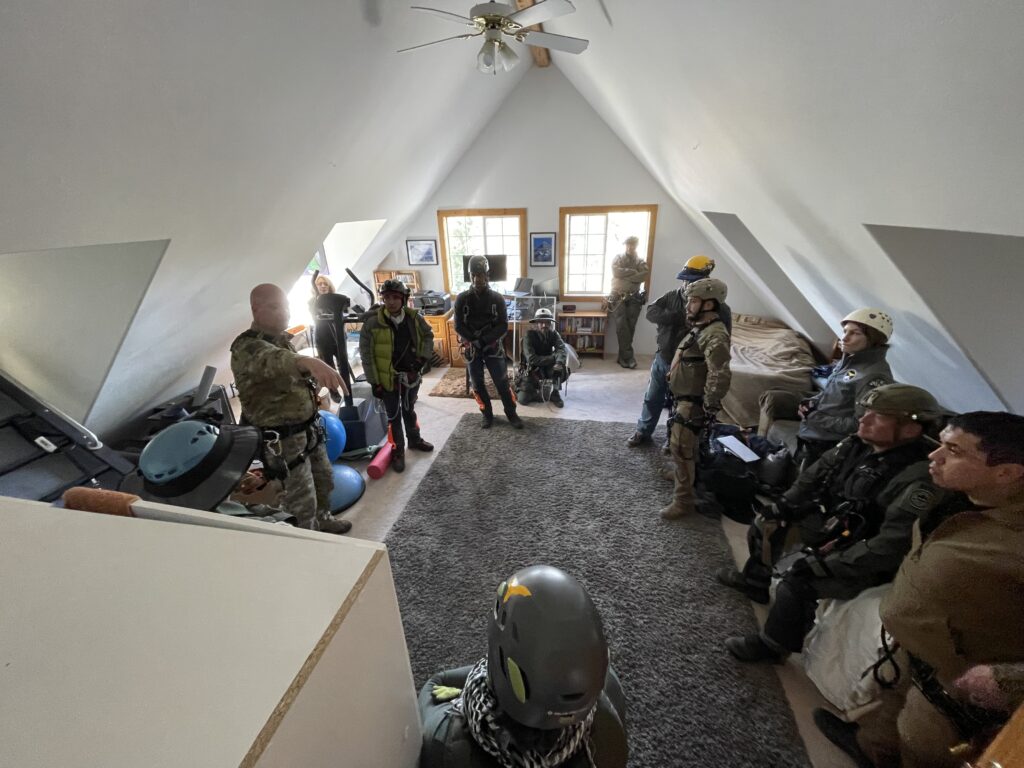 CORE VALUES
Direct Action Vertical creates programs that synthesize concepts from multiple disciplines into integrated customized offerings, which continuously evolve to meet customer needs in ever-changing cultural, legal and physical environments . We consistently unveil hidden problematic aspects in client situations, and offer specific, timely and relevant solutions.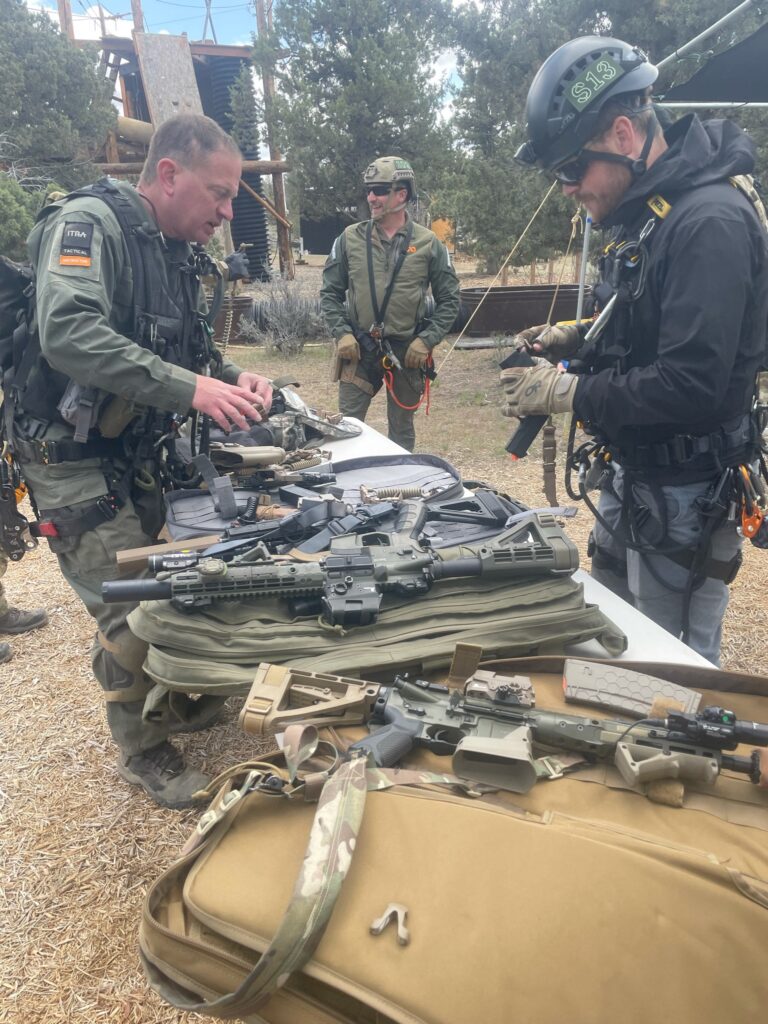 Professional Transfer of Knowledge: We use professional trainers with real world "boots on the ground" experience skilled in the art of adult education and the transfer of technical skills in high consequence / high stress situations.
Interdisciplinary Knowledge and Competencies: We are instructors with extensive experience and unique skill sets in multiple related disciplines. For tactical courses, we utilize instructors with BOTH law enforcement and military special operations experience, who can better effect transfer of knowledge in the context you need. (ex. Adapting military patrol tactics to law enforcement tracking teams / adapting cave and arborist rescue techniques to mountain rescue, etc.)
Reality Based Training: Our company motto is "Train like its real, or you're dead when it is." When training for high consequence operations (tactical or civilian), we believe the training conditions should have the same operational intensity as the anticipated real world mission. This is why we have such a high instructor to student ratio. Graduates of DAV course leave with the confidence KNOWING they will succeed, not "hoping" they can.
Integrated Training: Many schools focus on skills in isolation with contrived training exercises. Real missions have many interleaved disciplines that must be executed with concurrent competency. As such, our training and final exercises integrate many co-relevant skills such as combat medical, specialty firearms techniques, and operational planning / incident management with the focus skill, be it tactical rope, tracking, or technical rescue.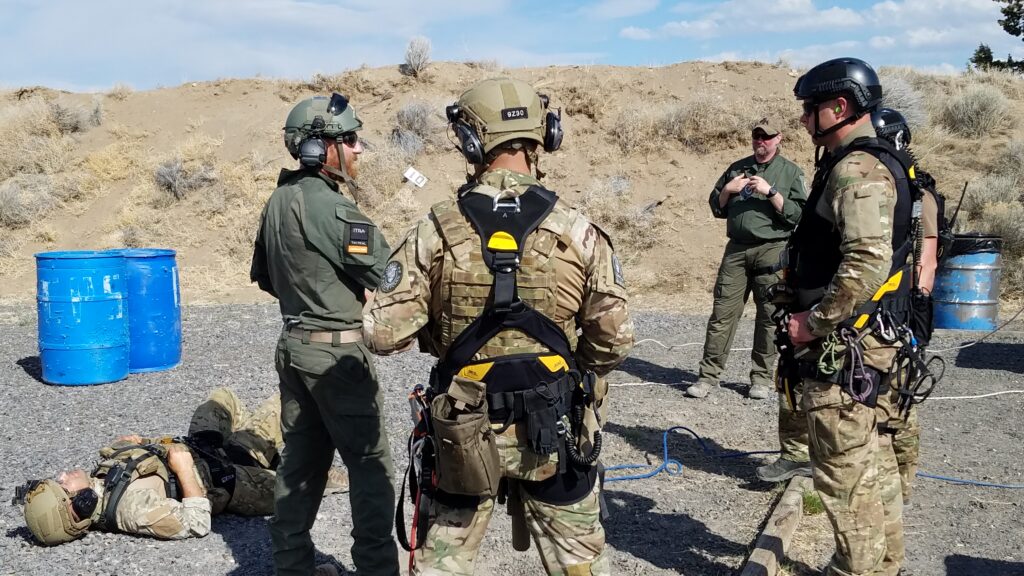 Direct Action Vertical specializes in teaching and applying high-angle single rope techniques in unique, adverse and extreme conditions. Whether your environment is mountain, cliff, cave, tree, or tactical application on man-made or natural surfaces, we teach you the skills to solve your rope mobility problems. We aim for rope travel fluency… up, down, and traversing any surface or obstacle.
We're experts in two worlds: technical rope rescue, and law enforcement and military tactical operations. Our emphasis is on fast and light, minimal gear, 3-dimensional rope and vertical mobility.
Mountain rescue teams, cavers, and expeditions in remote vertical environments have one thing in common: they need to be self-reliant. Help could be hours or days away. Sometimes they need to solve problems only with what's on their harness or in their pack.
We provide courses designed to help you rig lightweight systems to self-rescue or save a subject. Skills include single-rope-technique, mechanical advantage, releasable anchors, pick-offs, closed loop rigging, counterweight techniques, and much more.
Vertical operations become inherently more complex and higher consequence when integrating firearms or interfacing with combatants. A rescue of a team-mate in such a venue requires operators to act quickly, with the gear they are wearing, and without any outside intervention.
Direct Action Vertical is uniquely qualified to teach tactical operations on rope and in the back-country. We train officers how to access all varieties of structures, even when top access is not directly possible; how to insert and extract teams and assets from vertical locations; and how to safely extricate bridge or tree protesters. We also train how to perform reconnaissance missions in harsh wilderness environments; and apply tactical tracking skills to locate fugitives or conduct perimeter security.